Although Willow Wood is not currently having classes, we thought you may enjoy seeing some projects to brighten your day! All of these projects have kits, books and/or patterns to go with them If you are interested, be in touch!
Sweet little tulips and posies hooked/punched design.
"Woven" baskets that are appliqued onto a background and filled with appliqued flowers!
*The smaller one with the flag is our "Project of the Season" that I would have had ready this month. If you want the kit, let me know!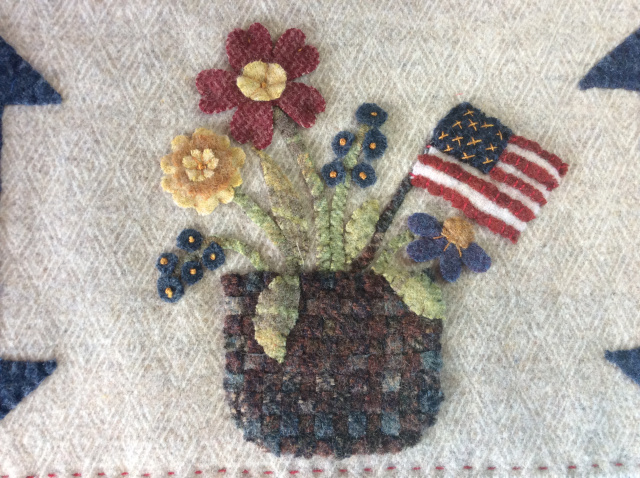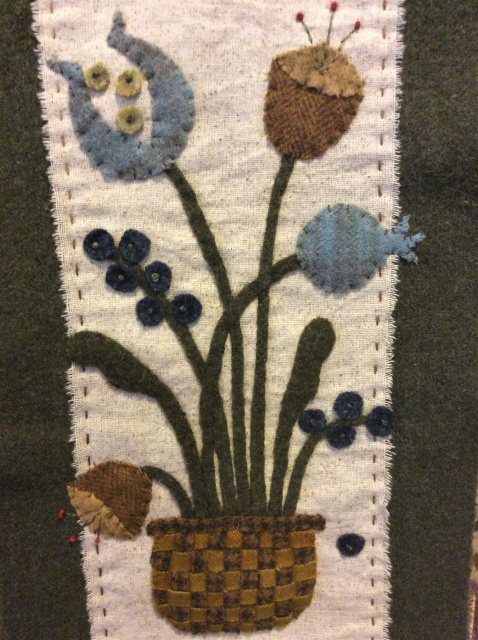 Sweet little group of spring projects sure to brighten your day!
Most all of us have at least one... a doily or dresser scarf given to you by your mom, grandma, or because you just couldn't resist it at a garage sale... Add some embellishments of buttons or stitched words, stitch it to a background and repurpose it into something fun and useful! Pillows, runners, use your imagination!
These are a couple fun projects using toweling by the yard! I also have runners, pillows, and lots of patterns! The little project taker at the bottom of the photo is the free pattern you received at the Fiber Festival if you took Sandy Kalvig's demo class. I now have kits for it!
This is my current work in progress and a great way for you to use up scraps while you are staying safe at home! It's called an "orange peel applique" in quilting terms, but these are made from a template I made from tag board. The template is 2.25" long and about 1' wide. To make the pattern, fold a piece of paper in half and cut the shape out so it is even on both sides. (think cutting paper hearts when we were little!) Pick a background (any size will be fine). Find and mark the center of your background. Make a line using a chalk pencil (LIGHTLY) across the length and width of the background. I was lucky to have a window pane wool background... it fits the peels perfectly!
Trace and cut as many "orange peels" as you want, or have scraps for... glue baste in place, stitch, and voila! You will have a fun little table topper in no time! You can use a variety of threads, or just pick one that coordinates with all of your colors. You can add buttons at the intersections if they didn't fit quite perfectly!
**Several of you have taken beginner classes in the rug punch method of rug hooking from us. If you have not purchased the tools, but would like to make a project, let me know. I'd be happy to let you borrow them during this stay at home time.
Hang in there everyone... we will get through this. TOGETHER!
Take care,
Bonnie